by Rose McDonnell
21st CCLC Program Director
Despite winter's gloomy and frigid arrival, MYC's afterschool program is just getting warmed up! We start our day with some form of exercise, whether it's yoga with Courtney from Bath's Ebb and Flow Yoga, a mindful 30-minute walk outside, or a rousing game of dodgeball. The research is clear—exercise is a crucial component for mental wellness, brain development, and overall health.
Next, we do a group game or challenge, geared towards team-building and connection, as socialization and belonging are more important now than ever. An example of this is our popular fort building competition. Students were challenged to work as a team to build a fort while thinking about structure, warmth, accessibility and of course, creativity! The winning team built an incredibly formidable structure, and even included cans of beans to display the potential of happy meals at home!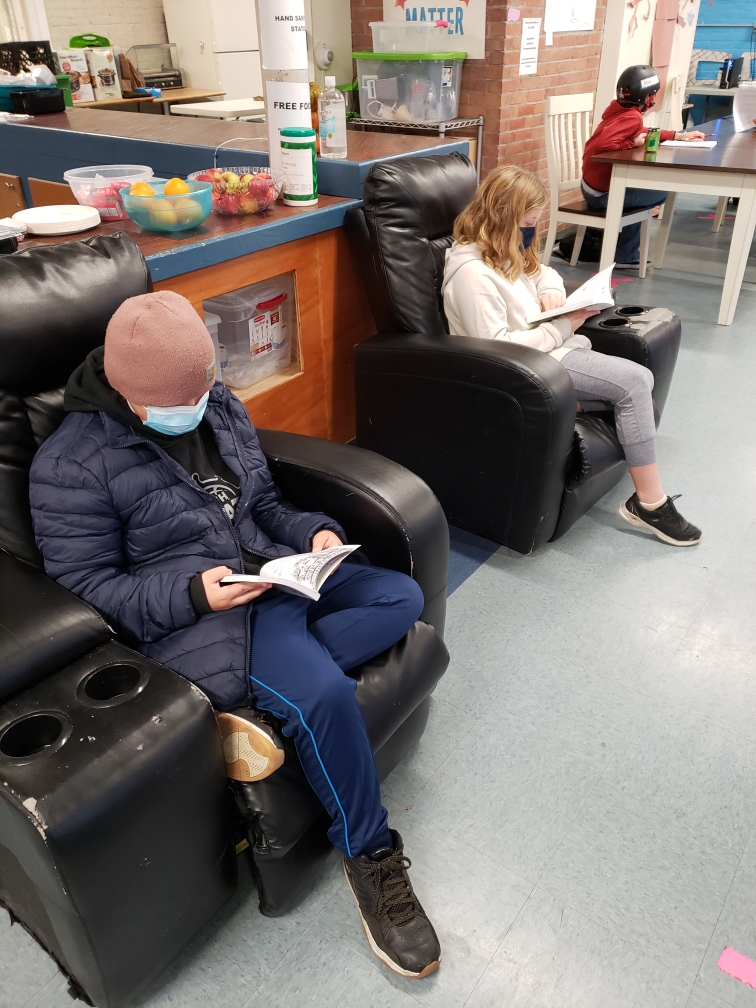 Along with exercise and team-building, our afterschool program also offers Supplemental Nutrition Assistance Program, or SNAP education, a federally funded grant program that supports evidence-based nutrition education and obesity prevention interventions. Students in our afterschool program are learning to read nutrition labels, to look out for tricky ingredients, understand portion control and of course—how to cook! Students are gaining hands-on experience in a dynamic format while learning which foods fuel us, which may harm us, and which foods should be eaten in moderation. Some examples of what students have made are hummus/veggie wraps and veggie cheese omelettes. As their official taste-tester, I can attest to the fact that the food they're preparing is delicious!
In addition to our SNAP education program, we also welcome the Sidekick Tobacco and Vaping Prevention Program to MYC. The Sidekick program provides youth with the skills and confidence to talk to their peers about tobacco use and vaping in a way that is compassionate, effective and supportive. After three classes, students are equipped to talk to peers struggling with tobacco and vaping use, which is incredibly important, as Maine's tobacco and vaping use is higher than the national average. One student exclaimed after taking the class, "Did you know the stuff that they use to clean toilets is in cigarettes?" Soon, all of the youth in our afterschool program will be Sidekicks in the community!
Among many other subjects like literacy, STEM, and art, MYC's afterschool program also engages students in social-emotional lessons provided by the Department of Education. We discuss important topics like, "What is the Difference Between Sadness and Depression?" and "Positive Body Images and Realistic Expectations." Having frank conversations with youth at this significant developmental stage of their lives is crucial to early intervention. These lessons aim to de-stigmatize mental health conditions and allow for a positive interaction between caring adults and peers. Maine leads the country in highest rates of anxiety and depression, so speaking honestly to youth about these topics early on is one of the most effective methods of early intervention.
Staying active, engaged and connected to peers are some of our top priorities for our youth as we navigate this unprecedented pandemic. We anticipate strong gains in academic improvement, as well, which will be evident through testing and teacher surveys at the end of the school year. Our youth are incredible people and it's an honor to watch them stretch, grow, fall down, and get back up.