Join COAST!
Career Opportunities & Advancing Skills Together is a workforce development program for 16-24 year olds living in Sagadahoc County, Brunswick or Harpswell.
Work Readiness Training
Gain confidence in practical skills including workplace etiquette, interviewing skills, workers' rights, completing forms, resume writing, conflict resolution and financial literacy.
Teamwork
Discover and enhance "soft skills" such as teamwork, flexibility, perseverance, willingness to learn, and using critique and failures to learn and grow!
Job Shadowing
Participate in job shadowing, paid internships and meaningful job placements.
Get Paid!
Receive a $600 stipend for completing the program plus enter to win a scholarship for driver's education!
Did you leave high school without your diploma?
No worries! We can help with that, too. In partnership with Merrymeeting Adult Education, MYC supports youth looking to prepare for the HiSET exam. 
HiSET is an alternative for the US high school diploma and is offered for adults who were not able to acquire a high school diploma for any reason.
Email Gina@midcoastyouth.org or Call/Text her at 207-504-1830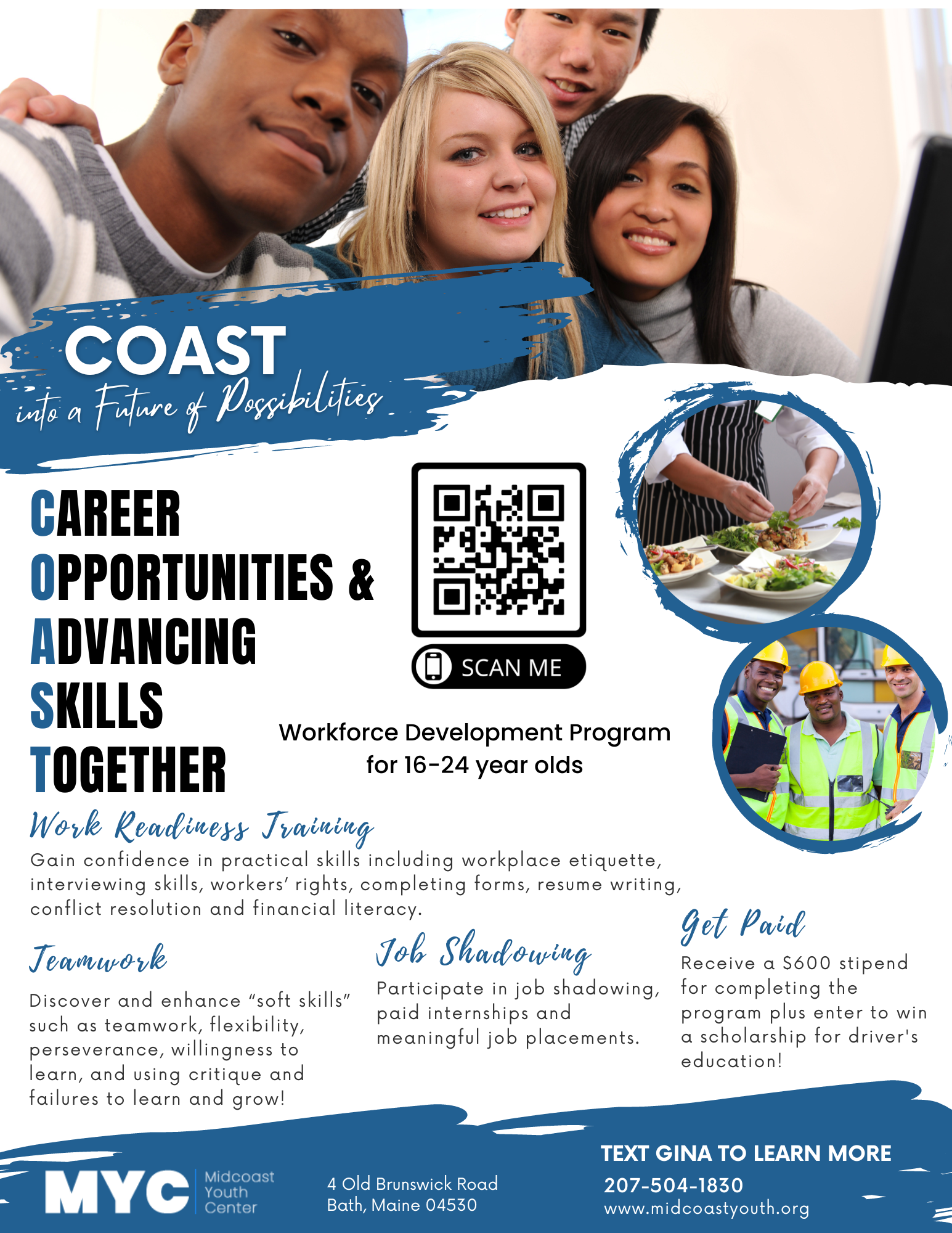 Gina Longbottom
Workforce Development Coordinator
Gina Longbottom is the Workforce Development Coordinator at Midcoast Youth Center. She is leading COAST (Career Opportunities and Advancing Skills Together), a grant funded program aimed at training 16-24 year olds in essential skills needed to discover, pursue and sustain meaningful careers. Gina is passionate about guiding young adults to know their worth and strengths so that they can walk toward their future confidently and successfully.
Gina graduated Rhode Island College (1994) with a BA in psychology and University of Southern Maine (2012) with a Master's degree in Occupational Therapy. She and her late husband, Keith, moved their family from Rhode Island to Maine in 2007 and bought Five Islands Lobster Co. in Georgetown, Me.
For almost two decades, they have primarily employed 14-22 year olds and Gina has grown to love being part of the process of acquiring and maintaining employment for this age group. Watching and assisting teenagers and young adults stretch themselves and grow in their skills and confidence has been a true gift. Her education, family, and work experience have led Gina to join the team at Midcoast Youth Center where she is excited to expand her reach deeper into the community.
When not working, Gina can be found spending time with her two teenagers, hiking with friends and/or Charlie, her Bernese Mountain Dog, seeing live music or learning new things!