TELL IT! A NIGHT OF SPOKEN WORD & STORYTELLING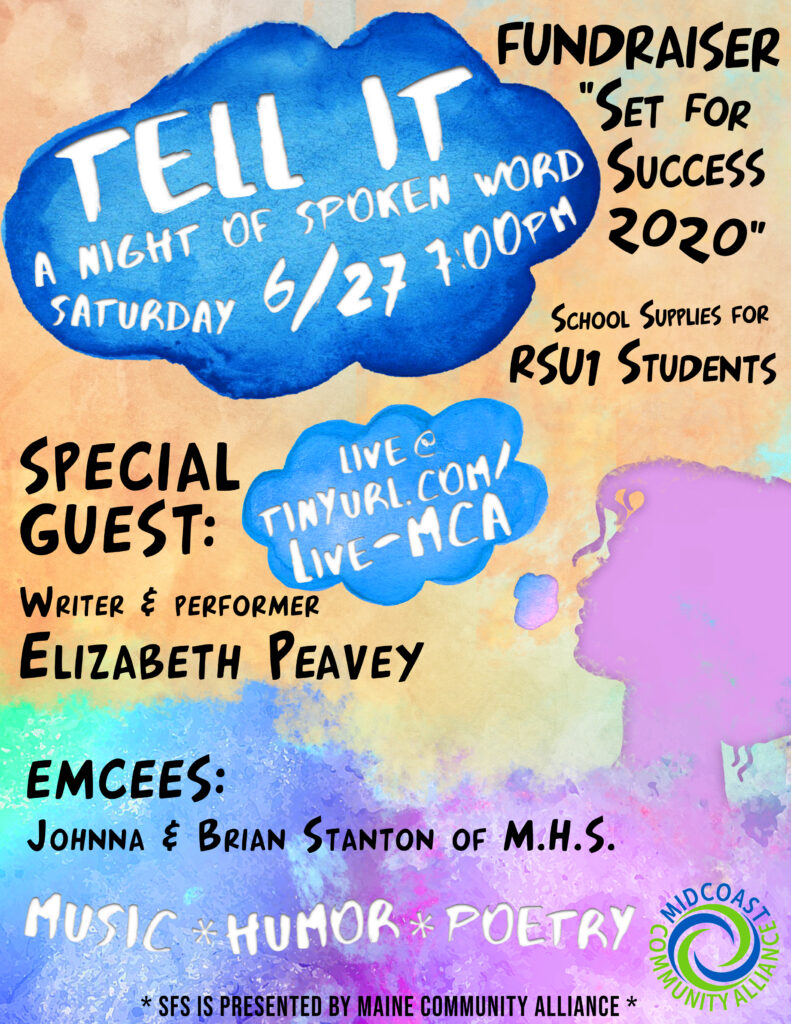 TELL IT!
 A NIGHT OF SPOKEN WORD AND
STORYTELLING
Fundraiser: Set for Success 2020
Saturday, June 27,  7:00pm
Watch: tinyurl.com/Live-MCA
Backpacks and School Supplies for All RSU1 Students
* SFS is Presented by Midcoast Community Alliance *
A night of spoken word and storytelling with special guest writer and performer Elizabeth Peavey. Music, Humor, Poetry. Emcees: Johnna & Brian Stanton of Morse High School. Online fundraiser for Midcoast Community Alliance's Set for Success 2020, providing school supplies for all RSU 1 students!
In alphabetical order:
* Scott Beauchamp, Bath
* 2020 Morse High Graduate Kaleigh Duggan
* Erika Hewitt, Bath
* Elizabeth Peavey, Portland
* 2020 Morse High Graduate Emma Roth-Wells
* Rob Stevens, Woolwich
Music: Robby Simpson
Video: Isaac Ensel & Isabel Strelneck
Poems, humor: Michael Tucker
Emcees: Johnna and Brian Stanton
SET FOR SUCCESS: Every student should start the school year with the same tools and confidence!
The event will take place on the MCA YouTube channel, which is also home to "Some Good News Bath." www.tinyurl.com/Live-MCA